Auto Scaling Servers
Get reliable performance without restrictions or upgrades.
Save money while paying for what you use.
Never Upgrade Never Downgrade Never Reboot
Scale Automatically and Pay For What You Use
$1/month
/ GiB of RAM
$10/month
/ AMD Core
$1/month
/ 10 GiB of NVME
Burst each resource for an hour each day for free!
Most servers don't pay for a single CPU core.
See your usage and auto-scaling in real-time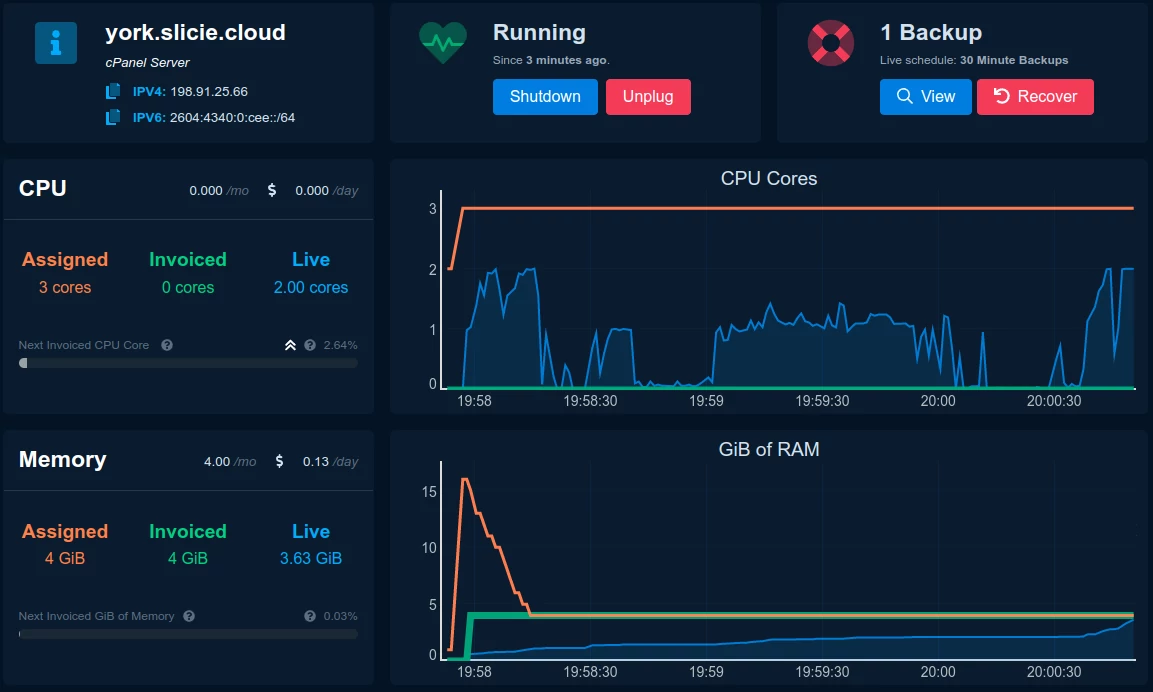 This is a brand-new cPanel & WHM server that we built automatically for users.
This is just a small portion of the real-time info we show in our customer portal.
Each resource is auto-scaled every second to meet changes in demand.
The Fastest Backups for All of Your Data
Backup creation and recovery in seconds, not hours.
Backups Every 30 Minutes
Exact copies of all your data are made every 30 minutes. Enjoy fresh backups at your fingertips. There is no performance penalty.
Efficient and Affordable
We don't charge extra for backups, and you only pay for the differences between them.
Easy Planning
Using our simple interface, you can configure how often backups are taken and how long they are stored. Keep as many as you want.
Easy and Powerful Backups
Connect to your live server Access in your browser Recover in seconds
Honest Hosting that Doesn't Rip You Off Start paying for what you use, and stop wasting money on a plan you don't need.
Fair Billing Every Day
Your usage changes every day. When you use less, you should pay less. Don't overpay preparing for a rush in traffic, and save money by paying for your actual usage.
Demand Performance
Your app is important, so don't limit it with a hosting plan. Usage is unpredictable, so keep everything running smoothly with automatic scaling.
Transparent Billing
Your server's usage is viewable in real time. You always know exactly what your usage is and how much it will cost. Easily control your costs with simple settings.
The Newest Technology, Ready for 2022 and Beyond
Your server is backed by the newest AMD CPU cores, with highest possible performance. Our storage is 100% NVMe, using local Intel Optane NVMes for the lowest possible latency.
Frequent Backups that Recover Fast
When backups recover in seconds, and you always have one that is at most 30 minutes old, you can rest easier.
Compare Us to the Competition The same old approach that has been around for 20 years; you know where to find them.
Plans Kill Servers
Using 100% of storage can corrupt data. Using 100% of memory can crash your server. Using 100% of CPU grinds your server to a halt.
Plans Waste Money
You're wasting your money if you don't use 100% of your CPU, Memory, and Storage. You also can't predict the future... right?
Tricks and Overselling Lock You Into Expensive Plans
Plans are designed to restrict you based on storage. As time passes, you will need more and more disk space. When you run out of space, you'll be forced to pay for CPU and Memory that you don't need. Our competitors make their profit by overselling the resources you won't use.
Slow Upgrades with Long Outages
Some companies will tell you the hard truth right on their site: it can take a long time to upgrade your server. For larger servers, you might be waiting many hours to upgrade. It feels awful to get a rush in users, only to have to take your server down for an upgrade.
Slow, Infrequent Backups, that Cost You Extra
Most companies charge extra for backups and restrict you to just a handful of backups. Then, when you go to restore the backup, it can take an extremely long time.
---
---
Internet Fast Paths
We have a diverse edge network throughout the United States. We automatically monitor the performance of routes between each of our locations, and make real time routing decisions.
Go faster with low latency, low packet loss, and 100gbps+ of DDOS protection.
West Coast
Seattle, Washington
Los Angeles, California
Phoenix, Arizona
Central
Chicago, Illinois
Dallas, Texas

Coming soon




Denver, Colorado
East Coast
North Carolina
Washington DC

Coming soon




New York
Solutions for the Real World
Our Servers are Perfect for You
Made for Ecommerce

Our entire company was built with Ecommerce businesses in mind. Crush Black Friday with automatic scaling. Keep your data safe with the best backups.

We Love Developers

Our servers are perfect for software development. Break something? Restorations on Slicie take seconds. Optimize your code? Save money.

We'll Make Your Life Easier

There's no online school, complicated docs, billing calculators or hidden fees. We'll cut out the headaches, so you can focus on more important things.
Fully Featured Mobile UI
Control With a Click

Easily manage your server with a simple interface. All of the features available on your desktop are also mobile friendly.

Mobile Ready

You can use any mobile browser with Slicie. Our entire interface is responsive and adjusts to your screen size.